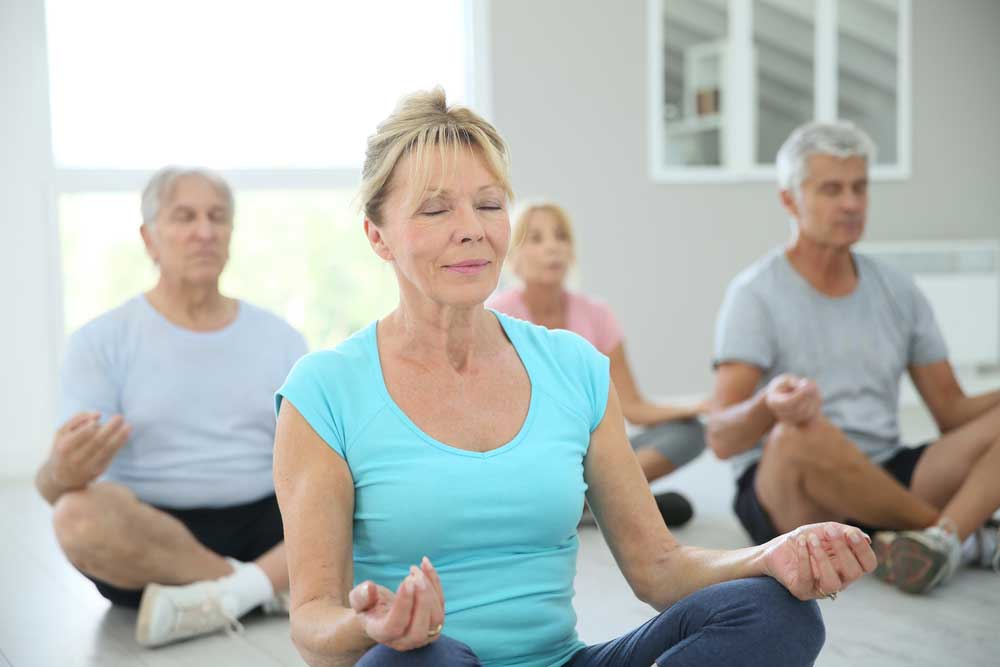 The 7 Best Low Impact Exercises for Seniors
Check your recliner. Are you beginning to see a permanent depression on the seat? If so, it's probably time to think about getting a little exercise. We're not talking about high-impact workouts, running a marathon or benching 300 pounds. For people of a certain age, doctors say what's most beneficial in promoting heart health, improving balance, building muscle, and maintaining flexibility are low impact exercises for seniors.
Need more proof? According to the World Health Organization (WHO), older adults who engage in regular physical activity have lower rates of coronary heart disease, stroke, and type 2 diabetes – not to mention being physically fit can help prevent falls, strengthen bones and joints, and improve cognitive function, among many other benefits.
So, if you've been glued to that easy chair lately, here are 8 low impact exercises for seniors to explore. Many can be done in the comfort of your apartment. For others, you'll want to head over to your community's fitness center to access instructors, equipment, and enjoy raising your heart rate with friends.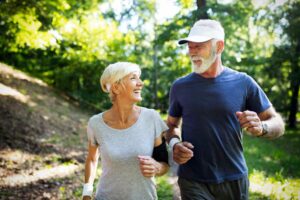 One note: Before beginning any type of exercise program, please talk to your doctor. It's important to do the right kind of exercise especially for those with chronic conditions, and to choose exercises that don't aggravate conditions such as osteoarthritis or disc issues. Your bones and joints will thank you for it.
Suggested Low Impact Exercises for Seniors
1. Swimming 
Swimming is a wonderful low impact exercise for seniors. It's especially beneficial for older adults, who suffer from joint pain thanks to water's buoyancy. Lane swimming at a nice leisurely pace is a terrific cardiorespiratory workout and also great for muscle endurance and strengthening your lungs and body. Several studies also show pool time benefits mood, reduces anxiety, and improves cognitive health as well.
2. Yoga
Flexibility and balance are at the top of most seniors' wish lists. They're two of the best ways to maintain a healthy body. For these reasons, many seniors gravitate to yoga. It's essentially a no-impact workout, so it's easier on your joints. You can experiment with online classes (there are many of them) or take in-person classes where you can ask for extra help from the instructor. Either way, you'll reap the benefits of becoming more limber and enjoying one of the most relaxing, stress-reducing, mood-lifting experiences you've ever had.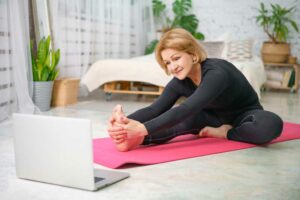 3. Simple Stretching
If you haven't been able to touch your toes or reach your arms above your head for a while, it's time to consider a good stretch routine. Not only will you increase your flexibility and range of motion, stretching can improve your other workouts, from swimming to yoga to playing golf.  A physical therapist or fitness instructor can establish a good stretch routine tailor made for you, and also show you how to add resistance bands for a more intense stretch. You can even add light weights to add strength training to your routine. Then you can work out at home or go to stretch classes. Stretching is something you can do daily – and it's worth it!
4. Walking (Indoors or Outside)
When it comes to working out, you can't choose a much cheaper exercise than walking. It's an ideal low impact exercise for seniors. A supportive pair of athletic shoes and comfy clothes is all it takes to get started. Walking at a nice steady pace not only helps strengthen your bones, joints, and muscles, it's also great for heart health and circulation. It can even help keep your weight in check and help you sleep more soundly. In good weather, walking outside provides a dose of fresh air and it's best to go with a friend for safety and of course, a good chat. The best retirement communities have fitness centers with treadmills, and some have indoor walking tracks – both great options for indoor strolling. 
5. Water Aerobics
You'll be amazed at how challenging and invigorating it is to work out in the water! Water aerobics combines cardio exercises with strength training for an ideal no- to low-impact fitness experience. The water provides just the right amount of resistance against leg and arm lifts, so it's great for strengthening your muscles without stressing joints. The best part? You don't need to know how to swim to take water aerobics. Most exercise takes place in shallow waist- or chest-high water. And ladies, that means, other than a splash or two, you won't get that new hairdo wet.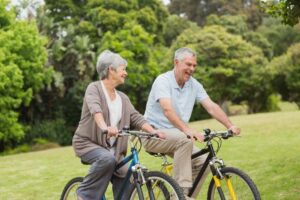 6. Cycling Indoor or Out
The circular motion you engage with any type of cycling is easy on your joints, which makes it a great low impact exercise for seniors. The motion strengthens hip and thigh muscles (and adds flexibility), not to mention cycling boosts heart health and reduces stress. You have many cycling options these days. Tricycles for grownups are becoming quite popular. You get a nice workout and they're practically fall-proof – beneficial if you're concerned about balance. Regular bikes are great, too. The best models for seniors are city bikes with fatter tires and easy speed and braking controls. Indoor cycling is another good option. Typically, retirement communities have several in their fitness center. Also ask about cycling classes – it's fun to roll with a group!
7. Tai Chi 
Don't be intimidated by the exotic name – tai chi is easy to learn and very popular with seniors because of the many wonderful benefits. It's super calming thanks to the meditative flowing movements, plus it's excellent for improving your strength and flexibility. It's a superb way to build up your balance as well, which can help reduce the risk of falls. Best of all, you don't need any special gear or clothing. Retirement communities (and community fitness centers) typically offer tai chi classes. You'll want to take several sessions to learn the movements, but once you do, you can practice anywhere, anytime.
Abbey Delray South is All About Wellness & Fitness. Find Out More.
Residents of Abbey Delray South enjoy a wealth of fitness options right outside their apartment doors. Ready to find out more about living your best life here? Just complete the form below and one of our team members will be  in touch shortly!