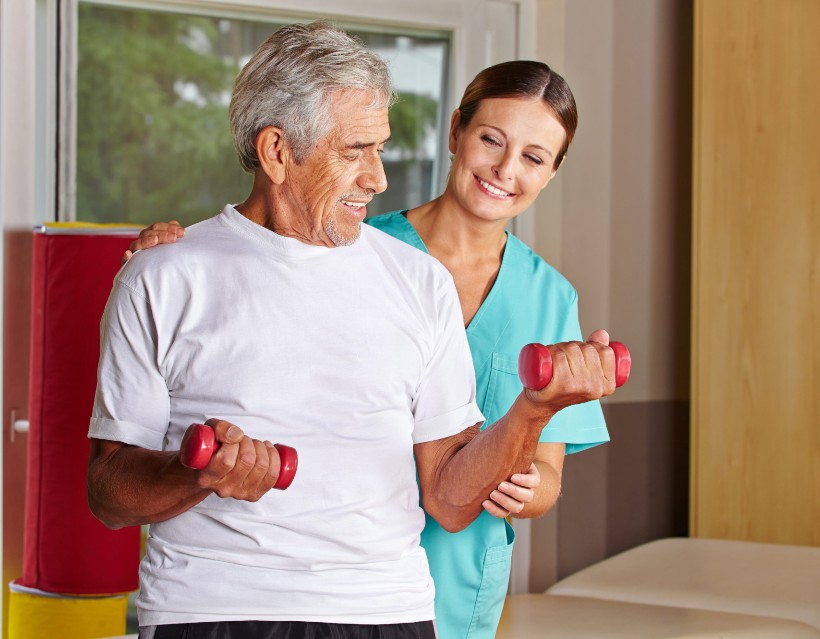 Exploring the Benefits of Physical Therapy for Seniors
The older we get, the greater the chances that our bodies may need a repair such as a hip or valve replacement, or we experience a major illness or a bad fall that compromises our muscle strength, mobility and ambulation. In fact, the Centers for Disease Control and Prevention reports that a third of all people over the age of 65 fall each year, making it the leading cause of injury in the elderly and one of the primary reasons for hospitalization and hip fractures.
Medical events like these, especially for aging adults, tend to have a long recovery. However, following doctor's orders greatly increases a successful outcome, and can reduce hospital stays. Typically, senior physical therapy will be part of the prescribed rehabilitation process. Technology has given us aids like walkers, chair lifts and adjustable beds, but the goal for older adults should always be to preserve their strength and range of motion as much as possible in order to maintain the best quality of life.
Physical therapy for seniors is also beneficial in helping with age-related conditions like arthritis, stiffness, fatigue, and even urinary incontinence or certain cancers. No one should have to live with pain or discomfort. If your doctor believes that physical therapy can provide some relief, it makes absolute sense not just to "give it a try," but to commit to it as long as necessary to accomplish the goals your doctor and therapy team set for you.
Why Choose a Community with Rehabilitation Services?
Knowing that rehab needs may increase as you age, it's wise to choose a senior living community like Abbey Delray South, where personalized short-term rehabilitation services are available to all residents. You can expect to get expert medical advice and care from a team of physical therapists and well-trained nurses in developing an exercise program for reducing pain and restoring functionality. In addition, you'll enjoy a host of amenities, including options for private rooms, that will make your stay comfortable and relaxing, as well as rejuvenating.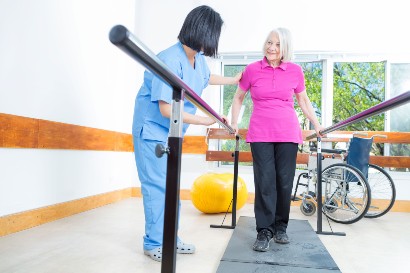 What Does Senior Physical Therapy Look Like?
There are many types of physical therapy for seniors, and the protocols used depend on the type and extent of the injury or illness. Machines similar to what you've seen in gyms and fitness centers may be used. You might work on climbing steps, getting into a car or walking down a hallway. Other exercises may be done with weights or using simple sequences of leg and arm lifts. The goals of physical therapy of any kind are to get you back to enjoying life as quickly as possible and reduce the risk of falls and other debilitating injuries in the future.
Of course, senior physical therapy isn't just useful for acute conditions like injury, illness or post-surgery. It's also an excellent protocol to help manage chronic ailments like arthritis and osteoporosis. It's also often used to help work on balance issues caused by certain neurological conditions or due to vision or hearing loss.
Clearly, in so many ways, physical therapy is ideal for encouraging seniors to stay "in touch" with their bodies and remain active. The movements and exercises used in physical therapy can help stimulate brain and muscle coordination, boost a senior's confidence and vigor while walking or getting up from a chair, and improve the ability to perform the simple physical tasks we all have to do on a daily basis. The bottom line is, building and maintaining strength can lead to greater independence and improved health. And isn't that what we all desire most?
Ready to Learn More About Rehab?
Short-term rehabilitation services at Abbey Delray South are available to residents as well as to seniors throughout Palm Beach County. If you'd like more information, simply complete the contact form at the bottom of this page and we'll be in touch.