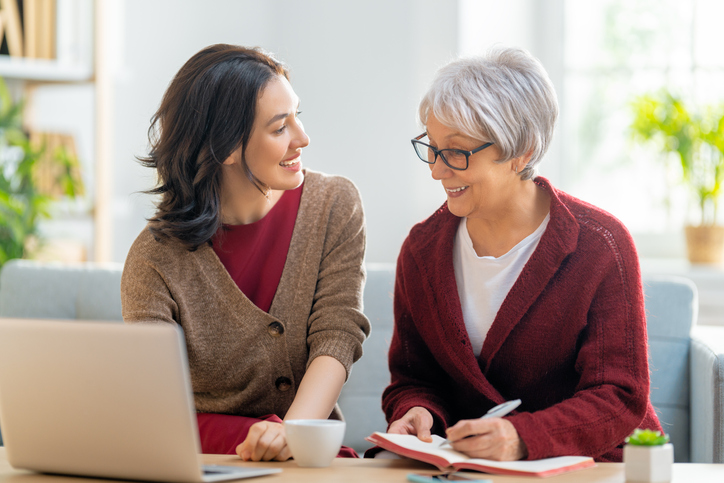 Questions to Ask Your Parents About Long-Term Care
Discussing long-term care options with your parents can be a sensitive topic. We all want to live a fulfilling and active life for as long as possible, but the reality is that 70% of older adults will need long-term care at some point in their lives. The best time to talk about tomorrow's care needs is today. Here are some questions to help you get the conversation started.  
1. Do You Have a Long-Term Care Plan?
The first question to ask your parents is "do you have a long-term care plan in mind?" If they say no, ask them about what would happen if their care needs changed. If they were unable to keep up with home maintenance or experienced a debilitating fall, what would they do next? 
Many seniors put off this conversation, assuming that they will age in their home with occasional outside assistance. But as healthcare costs rise, outside help may become more expensive. Counting on friends and family to assist is also an unpredictable option. If they were to fall and injure themselves, how long would it be until someone came to check on them? 
2. When Would You Consider Moving to a Community Setting?
A senior living community can offer a level of stability and security to older adults as their needs and abilities change with age. If your parent has not yet considered moving to a community setting, ask them at what point they would consider moving, and use some exploratory questions like these to get started. 
"Would you consider moving to a community when…"
…you have trouble driving? If your parents notice they are not as focused when driving, it might be time to consider moving to a community with onsite amenities and services that have scheduled transportation included. Stress the importance of both their own safety and the safety of others whom they may encounter while driving.
…your care needs change? Knowing your parents' health status is important in planning their long-term care. Discuss with your parents which health signs will prompt a move to a community setting, and if they are seeing signs already, what are they waiting for? The reality is that most older adults will need long-term care. It's better to plan for this now than when a crisis hits.
…you begin to feel lonely? Many older adults feel lonely, especially as adult children move away and get busy with their own families and careers. Speak to your parents about the benefits of meeting like-minded peers at a senior living community. Not only will they meet people who share similar interests and passions, they will also enjoy community hosted parties and events.
3. When Would You Consider Selling Your Home?
When thinking about making the move to a senior living community, there's many steps involved including the selling of your parents' home. Ask your parents how they would like to proceed. Do they want to move forward with selling or pass it on to another family member? Offer your assistance with what may be a challenging process. 
Moving can be both emotionally and physically overwhelming, so having others around them who are encouraging can help overcome their initial resistance. 
4. When Are You Planning to Downsize?
Downsizing is a key part of any move. Emphasize to your parents that their senior living community will take care of daily chores like cooking, maintenance and more. Your parents won't need as many pots, pans, cooking appliances or cleaning supplies. Talk to your parents about the benefits of downsizing, when they would like to start and how to organize their items into "keep," "donate" or "give away" categories.  
5. How Can I Help?
The last and most important question to ask is "how can I help?" Your parents want to retain their independence as much as possible and you want to be helpful. It's best to ask how you can be involved in supporting their long-term care plans. This not only ensures that they feel supported, but also keeps the issue top of mind.
Explore Independent Living Options at Abbey Delray South
Looking ahead is much more exciting when you have a great destination to look forward to. Let Abbey Delray South be that destination for you. In our beautiful Delray Beach community, residents get to create engaging lifestyles that suit their passions and pleasures. Take a tour of our beautiful gardens and explore our sophisticated services. Contact us to learn more about Life at Abbey Delray South.