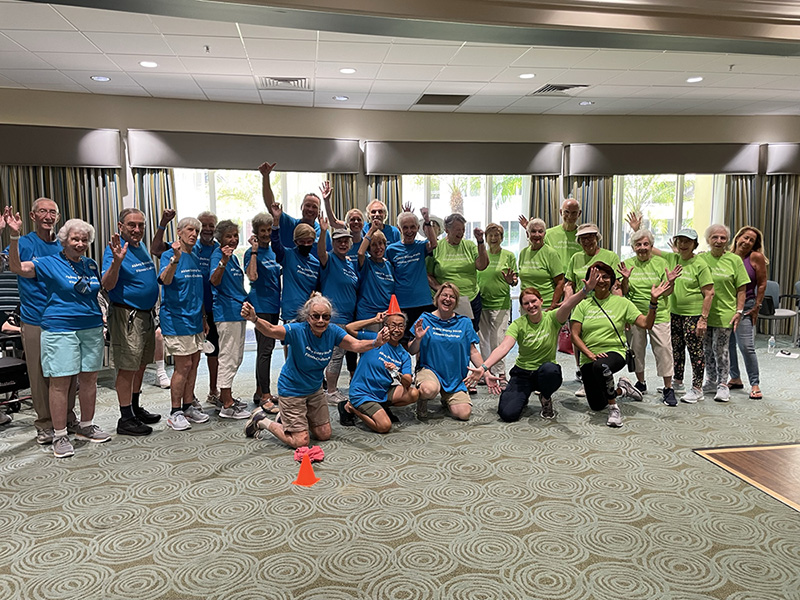 Abbey Delray South takes home winner's cup during fourth annual Fitness Challenge Competition.
After a prolonged break, Abbey Delray South participated in their much anticipated fourth annual Fitness Challenge Competition on Aug. 19, 2022, competing against sister community, Abbey Delray, for the winner's cup.
The communities met for the two-hour fitness competition at Abbey Delray South. The day consisted of six challenges, including a one-mile timed race, a six-minute bike ride, an individual obstacle course relay, a sit-to-stand competition, a single leg balance challenge and a medicine ball shot put competition. The events wrapped up with a team relay.
A large crowd of spectators from the communities cheered on the competitors and showed their support from the sidelines.
"Everyone was laughing, cheering each other on, and showing good sportsmanship!" said Jordyn Rocafort, Abbey Delray's fitness director. "Residents from both communities had fun and enjoyed interacting with each other. Overall, it was just a really positive and happy day."
Both Rocafort and Mike Schmidt, fitness director of Abbey Delray South, say their residents trained hard leading up to the challenge and pushed themselves throughout the competition.
"We are extremely proud of the effort our residents put into this event," Schmidt said. "It was inspiring to see them go into this with a determined mindset and to have them finish out so strong. Really exciting and motivating for everyone."
After a careful tallying of the points, Abbey Delray South was deemed the winner of this year's Fitness Challenge Competition, a testament to the competitors' hard work and resolve. Along with an impressive 2:15 minute run in the team relay, the Abbey Delray South team finished strong and walked away with the following individual wins for their community, including a few new records:
Six-minute bike ride:
1st place – Abel Merrill
2nd place – Perry Arnold
One-mile walk:
1st place – Abel Merrill
2nd place – Harriet Tenhoeve
Sit-to-stand:
1st place – Fe Stott
2nd place – Harriet Tenhoeve
3rd place – Carol Cullen
Single leg balance:
1st place – Fe Stott
2nd place – Jo Ann Guise
Medicine ball shot put:
2nd place tie – Jerry Yellin
Individual obstacle course:
1st place – Harriet Tenhoeve
3rd place – Fe Stott
"The highlight of the event was that everyone had a great time, because that's what really matters!" said Rocafort. "The residents who participated really enjoyed it, and some who came to watch said they want to compete next year."
As for future fitness competitions between the two Delray Beach senior living communities, Schmidt and Rocafort are already planning another fun-filled multi-game event for later this year. The contest will include a golf putting and driving competition, corn hole, darts, pickle ball, a broom ball race, shuffleboard, ping pong and billiards.
"It's great that we can get together with Abbey Delray South and have these fitness events together," Schmidt said. "Our goal is to make staying active motivating, engaging, and most importantly, fun. We are looking forward to all the future events we have planned."