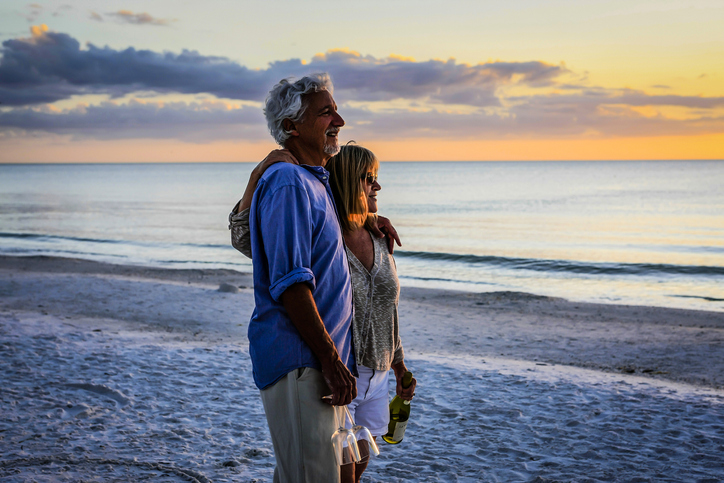 7 Summer Activities for Seniors Near Delray Beach, Florida
Summertime in Florida features a seemingly endless number of  activities perfect for seniors. Beyond the sun, sand and surf, there's an abundance of entertaining venues,  from farmers markets to music festivals. No matter your interests, you're sure to find something you'll enjoy.
If you're planning your summer calendar, check out this list of activities for seniors near Delray Beach, and discover how the community at Abbey Delray South helps residents make the most of each day.
Delray Beach is an Ideal Summer Destination
Many look at Florida as a wintertime destination, but any resident of Delray Beach will tell you summer is seriously underrated. These are just a few of the reasons the season is so idyllic in Palm Beach County.
Easy beach access.

When you want to feel your toes in the sand and take a plunge in the water, beach access is never far away. In fact, the

garden homes

and

apartments

at Abbey Delray South are only 2.5 miles from the nearest beach.
Vibrant downtown.

From art galleries to sidewalk cafes to award-winning restaurants, downtown Delray Beach will make you want to get out and about in the summer. It's easy to see why it was awarded "Most Fun Small Town in America" by Rand McNally & USA Today.
Convenient location.

While there's no shortage of summer fun to be had in Delray Beach, the town's location on I-95 makes for a quick jaunt to some of Florida's most popular cities including Miami, Fort Lauderdale and Boca Raton.
7 Summer Activities to Enjoy Near Delray Beach
If you want to know all the best summer events and activities to enjoy near Delray Beach, look no further. Here's a roundup of seven options older adults are sure to love.
Art and Jazz on the Avenue
Summer in Delray Beach kicks off with Art and Jazz on the Avenue. Atlantic Avenue, known for its galleries and boutiques, is closed for this block-party style event. Enjoy the spectacular weather while exploring local businesses, artists and live entertainment. Best of all, this event is completely free and open to all ages.
4th of July Celebration
Nothing says summer like the 4th of July. And in Delray Beach they celebrate it in style. In addition to a show-stopping fireworks display, you can take in live music, car shows, festive food, a sandcastle building contest, flag raisings and so much more.
Restaurant Month
Typically held in August, Delray Beach Restaurant Month is a gourmand's dream. Popular restaurants throughout town offer prix-fixe menus highlighting their best dishes at highly affordable prices. There are even culinary events that give you a behind-the-scenes look into the kitchen area that you can't get at any other time.
Morikami Museum and Japanese Gardens
The Morikami Museum provides a one-of-a-kind opportunity to immerse yourself in Japanese culture without ever leaving Florida. Those who want some activity and exercise can explore 16 acres of expansive, beautifully manicured Japanese gardens, while history buffs can pore over 7,000 Japanese art objects and artifacts.
The Big Apple Shopping Bazaar
Transplants from the East Coast will enjoy a taste of home at the Big Apple Shopping Bazaar. Designed to transport you to the streets of New York City, this unique attraction is home to a plethora of merchants and specialty boutiques. The Bazaar is even air conditioned, making it the perfect escape from the summer heat.
Delray Beach Playhouse
If you want to mix some culture with your summer fun, the Delray Beach Playhouse is the place to do it. Dating back to the 1950s, this popular community theater hosts everything from musicals to comedies. For those with a flair for the dramatic, the Delray Beach Playhouse also hosts private lessons for all ages.
World-Class Golfing
Whether you're a scratch golfer or just picking up the hobby in retirement, Delray Beach is home to many of the state's finest golf courses. You can even get some practice without ever leaving home, as Abbey Delray South features both a driving range and putting green.
Summer Activities at Abbey Delray South
As a resort-style retirement community, Abbey Delray South has something for everyone. Our community life revolves around wellness and the activities residents are most passionate about. During the summer and beyond, residents can swim laps in the heated pool, choose from over 20 different classes in the fitness center, explore creative outlets, learn new skills and attend cultural events.
If you or a loved one would like to learn more about Abbey Delray South, our dedicated team is here to answer your questions. Please don't hesitate to contact us.